Forty Seven Stories of Jesus
You probably have never heard
by Aaron, channeled by Barbara Brodsky
edited and arranged by William Atork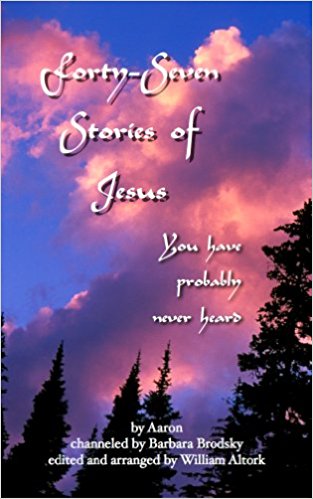 $12.00 + $3.95 shipping
(US shipping only, contact Deep Spring office for international shipping)
Place Your Order | View Cart
For everyone who has ever said or wondered, "What would Jesus do?", here is your answer. Pure and unblemished true-life examples of how Jesus felt about and treated other people, exactly as He encountered them during His time spent living among us.
These stories offer insight into the purity, love and selflessness with which Christ lived. As you read, you can easily plant yourself into each story, and you will be asking yourself not what Jesus would do, but what would YOU do in that situation. You will be awakened to your own divinity and challenged to treat all people with greater understanding, love and compassion.
William Atork
Barbara Brodsky is a dharma teacher who leads meditation retreats and spiritual inquiry workshops worldwide. In Ann Arbor, Barbara is the founder and guiding teacher of Deep Spring Center for Meditation and Spiritual Inquiry which offers non-denominational spiritual teachings and practice. She has been practicing meditation since 1960 and teaching since 1989. Her teaching draws from dual roots in the Buddhist and Quaker traditions. Her Buddhist training is in the Theravadin and Dzogchen traditions. She became totally deaf in 1972; living with silence has greatly influenced her life and teaching, as have years of active involvement in nonviolent action for social change. Since a surfing accident in 2004, Barbara is blind in one eye.  Barbara is also the channel for the spirit, Aaron, and, with him, offers personal spiritual direction sessions and group workshops. Eight books of Aaron's teachings have been published. The newest is, The Aaron/Q'uo Dialogues: An Extraordinary Conversation between Two Spiritual Guides.
Barbara has been featured in two episodes of the NPR radio show, This American Life Miracle Cures, episode 262 and The Other Man, episode 212 . She is a contributor to numerous anthologies and journals. She was also one of the featured teachers in the internationally acclaimed documentary, One, the Movie, directed by Ward Powers, 2005.