The Aaron / Q'uo Dialogues
An Extraordinary Conversation Between Two Spiritual Guides
by Barbara Brodsky and Carla Rueckert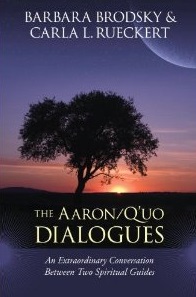 $24.95 + $3.95 shipping
(US shipping, contact Deep Spring office for international shipping)
Place Your Order | View Cart
Developed from the transcripts of nine weekends of joint channeling, The Aaron Q'uo Dialogues emphasizes, "living, thinking, and acting in service to others," and avoiding the "negative polarity" of focusing exclusively on service to self.
The Aaron Q'uo Dialogues shows how fear – fear of being too human, fear of death and dying, fear of failing to change with the times – holds us back, limiting our full potential and enjoyment of life.
Addressing questions from a wide range of spiritual seekers who attended these sessions, Aaron and Q'uo answer a host of fundamental questions for living with more awareness and compassion. With warmth and humor, these conversations offer the spiritual seeker a valuable template for living a life of selflessness and spiritual peace.
Barbara Brodsky is a dharma teacher who leads meditation retreats and spiritual inquiry workshops worldwide. In Ann Arbor, Barbara is the founding and guiding teacher of  Deep Spring Center for Meditation and Spiritual Inquiry which offers non-denominational spiritual teachings and practice. She has been practicing meditation since 1960 and teaching since 1989. Her teaching draws from dual roots in the Buddhist and Quaker traditions. Her Buddhist training is in the Theravadin and Dzogchen traditions. She became totally deaf in 1972; living with silence has greatly influenced her life and teaching, as have years of active involvement in nonviolent action for social change. Since a surfing accident in 2004, Barbara is blind in one eye.  Barbara is also the channel for the spirit, Aaron, and, with him, offers personal spiritual direction sessions and group workshops. Eight books of Aaron's teachings have been published. The newest is, The Aaron/Q'uo Dialogues: An Extraordinary Conversation between Two Spiritual Guides.
Barbara has been featured in two episodes of the NPR radio show, This American Life Miracle Cures, episode 262 and The Other Man, episode 212 . She is a contributor to numerous anthologies and journals. She was also one of the featured teachers in the internationally acclaimed documentary, One, the Movie, directed by Ward Powers, 2005.
What People Are Saying:
I am struck by its sophistication and its lightness, its clarity and its beauty.
Ram Dass, spiritual teacher, author of Be Here Now, Still Here, and other books 
These conversations between Aaron and Q'uo offer a unique and valuable perspective – rich in wisdom and compassion – to the central issues facing everyone who wants to realize his or her potential and embody the best of what it means to be fully human.
James Baraz, author of Awakening Joy
These dialogues are like being in a cozy living room with grandparents who only have your deepest interests at heart. Deeply loving, wise, respectful, and funny, what they share is not only pertinent and intimate but evolutionary.
Ajahn Thanasanti Bhikkhuni, Spiritual Alliances and co-producer of documentary, Theraveda Buddhist Nun, founder of Awakening Truth
Filled with love, wisdom, practical advice, and Divine perspective … helps demystify what the process of channeling is about, while at the same time allowing the reader to appreciate the efforts needed to channel with integrity.
Josie RavenWing, author of The Book of Miracles and Casa Guide
Brodsky and Rueckert are two of the most gifted channels of our time. In this magnificent book, they combine their considerable talents to create a vast treasure trove of wisdom.
Robert Schwartz, author of Your Soul's Plan.