Barbara Brodsky
Founder and Guiding Teacher
Barbara Brodsky has been practicing meditation since 1960. She has dual roots in the Buddhist and Quaker traditions and her teaching reflects this balance. Barbara teaches insight or vipassana meditation and practices derived from the dzogchen (non-dual awareness) traditions to people of all faiths, traveling throughout the world. She is an ordained Interfaith Minister. In Ann Arbor, Michigan, in 1989, Barbara founded Deep Spring Center.
Why "Deep Spring Center"? Barbara has said, "Almost forty years ago, when I first began to meditate, one day I had a vivid image of accessing a deep spring within myself as I moved into a meditational space. It was a bottomless spring, connected to the Infinite and Eternal. From that spring I drew sustenance and insight, not my own strength and wisdom but a far deeper one to which my meditation opened me. It was a place of deepest connection, deepest love. I saw that source was in all of us, the center to which we may all come. I came to think of it as a spring. The spring was 'self' but the waters were the pure energy and love of the universe. That spring has been with me all these years. I hope that all beings find that deep source within, and that it may lead us all to joyful connection and to peace."
Barbara has been profoundly deaf over forty years; living with silence has greatly influenced her life and teaching, as have years of active involvement in non-violent action for social change. She is married and the mother of three adult children and is also a published writer and a sculptor whose work may be seen in public and private collections throughout the US.
She is the channel for the discarnate entity, Aaron, The Mother, and other entities.
Private Counseling Meetings and Meditation Interviews
Barbara Brodsky and Aaron
Available by appointment and held in the meditation hall at 3455 Charing Cross Road, Ann Arbor. Rates for counseling meetings are on a sliding scale. Meditation interviews are available on a dana basis.
Please contact Barbara at [email protected] or call 734.971.3455 for more information or to make an appointment.
 by appointment only
To offer dana (a gift) directly to Barbara Brodsky:
   OR
Check:
Please make check payable to Barbara Brodsky:
Barbara Brodsky
3455 Charing Cross Rd.
Ann Arbor, MI  48108
Barbara Brodsky offers all teachings on a dana basis.
She does not receive any payment from Deep Spring Center.
All monies paid to Deep Spring Center go directly to the center for running costs.

Guided trip to John of God in Brazil with Barbara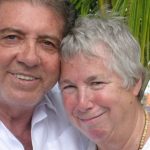 Barbara Brodsky
(author of "Cosmic Healing")
January 26 – February 9, 2019
(with optional extension to Feb. 16)
plus an optional third week:
Vipassana Healing
Space is still available.
For further information and registration:
[email protected].
Non-DSC Retreats with Barbara Brodsky
Durham NC area retreat with Barbara Brodsky, Aaron and John Orr
November 10-12, 2017
at New Hope Camp and Conference Center in Chapel Hill, NC.
This is a beautiful center nestled in 165 acres of rolling hardwood forests.
Commuter or residential. Open to all levels. For more information contact:
[email protected] or 919.943.0438, NewHopeSangha.org
Durham, NC
Non-Residential retreat in Seattle – Barbara Brodsky and Aaron*
September 30-October 1
For more information contact: Doron Weisbarth at: [email protected] or 206.524.8488
Seattle, WA
On Love in One, the Movie
Annual Sangha Meeting, May 5, 2012
Brief Deep Spring Center History
Annual Sangha Meeting, May 5, 2012
Barbara channels Aaron