Cosmic Healing
A Spiritual Journey with Aaron and John of God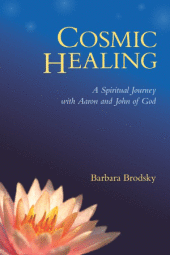 $18.95 + $3.95 shipping
(US shipping, contact Deep Spring office for international shipping)
Place Your Order | View Cart
Cosmic Healing draws on my life experience, and includes channeled material. It begins with my loss of hearing and how I worked with the trauma. The story unfolds to tell about meeting the discarnate entity, Aaron, and the ways he helped me move past the anguish and isolation of deafness. Writing the book, I have interspersed material from my old journals with the current story. In chapter six I introduce the Casa of John of God in Brazil and the work there, again using journals to describe my experiences.
Early in my deafness I was told the condition was medically incurable. Several decades later I lost vision in one eye, also considered incurable. Later book chapters describe healing, and ask the readers to begin to consider the "impossible" in their own lives; we each set limits that define us and within which we choose to live. Such limits entrap us. We can choose a new paradigm, to live in a higher consciousness, beyond fear and limiting beliefs. This does not mean old beliefs disappear, but we find a greater awareness that is no longer trapped within old limits.
The book transcends the personal. While it is based on my story, it is a journey into non-duality, yet told in a way that makes it accessible to the every-day reader, as well as challenging to the spiritual practitioner. It includes numerous guided meditations and meditation practice instruction that will help the reader apply the story to his or her life situations.
Aaron remains a constant thread as his wisdom continues to guide others and me. The learning of my more than twenty years as a senior Western dharma teacher with a national reach, also runs as a thread through the book, with material related to karma, negativity, energy, consciousness and to presence in each moment.
While the book is channeled in part, it is primarily a story of human growth and discovery. I have deep roots in traditional dharma, but the book also has a far broader appeal, and is not limited to any particular belief system.
Barbara Brodsky is a dharma teacher who leads meditation retreats and spiritual inquiry workshops worldwide. In Ann Arbor, Barbara is the founding and guiding teacher of  Deep Spring Center for Meditation and Spiritual Inquiry which offers non-denominational spiritual teachings and practice. She has been practicing meditation since 1960 and teaching since 1989. Her teaching draws from dual roots in the Buddhist and Quaker traditions. Her Buddhist training is in the Theravadin and Dzogchen traditions. She became totally deaf in 1972; living with silence has greatly influenced her life and teaching, as have years of active involvement in nonviolent action for social change. Since a surfing accident in 2004, Barbara is blind in one eye.  Barbara is also the channel for the spirit, Aaron, and, with him, offers personal spiritual direction sessions and group workshops. Eight books of Aaron's teachings have been published. The newest is The Aaron/Q'uo Dialogues: An Extraordinary Conversation between Two Spiritual Guides.
Barbara has been featured in two episodes of the NPR radio show, This American Life Miracle Cures, episode 262 and The Other Man, episode 212 . She is a contributor to numerous anthologies and journals. She was also one of the featured teachers in the internationally acclaimed documentary, One, the Movie, directed by Ward Powers, 2005.
What People Are Saying:
As I go through Aaron's material, I am struck by its sophistication and its lightness, its clarity and its beauty.
Ram Dass,  spiritual teacher, author of  Be Here Now, Still Here, and other books 
Clear dharma; living non-duality.
Lama Surya Das – spiritual teacher, author of Awakening the Buddha Within and other books.
Cosmic Healing tells the story of a powerful spiritual journey.  Interweaving teachings and experiences from several traditions, Barbara Brodsky opens us to new dimensions of understanding and healing.  It's a fascinating and illuminating read.
Joseph Goldstein, author of One Dharma and A Heart Full of Peace
There are three distinct adventures woven together beautifully in this story. The first is the extraordinary courage, transparency and transformation into wholeness that has come through Barbara Brodsky's personal contact with and application of liberating teachings. The second is the in depth exploration of the process of healing itself. Lastly this is a seminal work for anyone interested in knowing more about the Casa of Dom Ignacio and the entities associated with John of God. Independent of whether you can take on board entities, currents and distance healing, this book will take you on an authentic exploration of liberation. It will do well to serve humanity and support the transformation that is needed at this time. Since 1999, I have had extensive, direct personal contact with Barbara and Aaron and deeply appreciate the profundity of their teachings. I've consistently found Aaron's teachings to be kind, respectful, and filled with humility; they are clear, pointed articulations of profound truth. In addition, I have witnessed many of the things described here. I highly recommend this book.
Ajahn Thanasanti Bhikkhuni, Spiritual Alliances and co-producer of documentary, Theraveda Buddhist Nun, founder of Awakening Truth
What a wonderful work! If you have been swept away by trauma, medical calamity, or life not being what you expected it would be – read this book…Use Barbara's map and you will feel more secure in the steps of your own journey.
Emma Bragdon, PhD, director of the Foundation for Energy Therapies and author of Spiritual Alliances and Kardec's Spiritism
Barbara is devoted in her service and teachings and a pristine vehicle for Aaron's essence, love and profound wisdom. Thank you Aaron and Barbara for birthing Cosmic Healing – the message and unconditional love is palpable and will touch the souls of many.
Heather Cumming, Translator; Tour leader to John of God; co-author: John of God: The Healer Who's Touched the Lives of Millions, Simon and Schuster
There are many paths to enlightenment or union with God. Barbara Brodsky's Cosmic Healing, better than any book I have read, sets forth the path to enlightenment by means of physical and emotional healing. Brodsky shows how resolutely dealing with illness, whether serious or ordinary, can purify us emotionally and spiritually unto the highest levels of the spiritual life. She also includes a superb description of the various states and stages of the spiritual path. Cosmic Healing is a great gift of love and offers practical methods to bring us into a life of ever-new love and bliss.
Jim Marion, author of Putting on the Mind of Christ
I just put down Barbara Brodsky's wonderful new book, Cosmic Healing. It is a revelation to hear her story in its entirety, as well as to experience so many other stories of healing and wholeness. This book is a rich treasure trove for those who want to go deeper into healing and the search for personal truth. Are you seeking for more? This book is for you! I laughed, I cried, and I loved it!
Carla L. Rueckert, channel for The Ra Material and other books
One woman's very personal account of her journey from our collective human outlook on life to the awakening of her divine yet human Self. When Barbara writes of meeting Aaron, her master teacher, and tells of her struggles with fear and anger, etc., one finds it difficult to put the book down. This is definitely a 'page-turner' book of the highest degree. Fascinating reading!
Judith Coates, channel for Jeshua ben Joseph; editor, Jeshua, The Personal Christ series
My Love always I give unto you. Within and underlying Barbara's words is My Love. Take these words deeply within your consciousness and contemplate what they mean. Always My Love is with you, and I thank Barbara for her devotion to our Love.
Jeshua ben Joseph, (Jesus) channeled through Judith Coates
For many years I've been moved by the wisdom that flows from Aaron and Barbara. Based in solid dharma, their message is profound, timeless and filled with unconditional love. Highly recommended.
James Baraz, dharma teacher in the Theravadin tradition and author of Awakening Joy: 10 Steps That Will Put You on the Road to Real Happiness
 Cosmic Healing is a striking example of how spiritual truth can make itself known through an infinite variety of ways.  Some receive intuitive flashes, others work with physical teachers and still others awaken through the experience of a significant tragedy in their lives. Barbara Brodsky has been graced with all these experiences in addition to receiving spiritual guidance from sources referred to as Entities. Cosmic Healing is a book that opens one's eyes to alternative ways of looking at reality and living from one's own truth. Aaron speaks of his teachings as being similar to a finger pointing to the moon and not the moon itself. However, even his pointing is filled with brilliant illumination.
Matthew Flickstein, Dharma Teacher, author of Swallowing the River Ganges: A Practice Guide to the Path of Purification and Journey to the Center: A Meditation Workbook
 Cosmic Healing exemplifies storytelling as a deep form of healing. Barbara's is a detailed and easily readable true story about being present with pain, deeply knowing wholeness, learning to change our relationship with what is and more. Each page brought me to a stop, to savor, to ponder, to feel. And what a cast of just plain and ordinary and unusual characters! Barbara unfolds a map of the spiritual journey which transcends any single religion. Words fall short! I will be digesting this book for a long time!
Haju Sunim, Buddhist Priest
The voice of Aaron is a vessel of wisdom, its current direct from the awakened heartmind.  Read this book–it will give you fresh understanding and faith in the essence of dharma, the truth of your own luminous, loving being.
Tara Brach, dharma teacher and author of Radical Acceptance: Embracing Your Life With the Heart of a Buddha
In this extraordinary book, Barbara generously shares the depth of her experience, bringing to life the timeless and universal essence of dharma. Her courage, authenticity, and wholeheartedness shine through. Within these pages is a profound exploration of the meaning of healing and wholeness, and an invitation into the luminous and ever-present truth of wisdom and love. Over nearly two decades, I have found conversations with Aaron to be inspiring and illuminating, always pointing to unveiling and trusting the wisdom within. This book is a deeply compassionate and human account of the journey of awakening. Highly recommended.
Aura Glaser, Ph.D., Dharma teacher, Clinical Psychologist, and author of A Call to Compassion: Bringing Buddhist Practices of the Heart into the Soul of Psychology
Thank you for the opportunity to endorse this book!  A pleasure to get to know Barbara and Aaron in greater depth!  What wonderful work! If you have been swept away by trauma, medical calamity, or life not being what you expected it would be—read this book.  Barbara gently offers a hand, with profound kindness to your heart.  Her story reveals how she reached the Light through the gradual, essential steps of confronting darkness and fear through mindfulness and opening to spiritual guidance.  Use her map and you will feel more secure in the steps of your own journey. May this book reach many people who need the loving guidance Barbara offers.
Emma Bragdon, PhD, is the Director of the Foundation for Energy Therapies.  She is also the author of Stories about John of God and Spiritism
In this book, Barbara has generously shared with her readers her personal journey.  It is a journey of fear and courage, learning and teaching, pain and healing, and most of all, a journey of love.  Her book echoes my own conclusion – from my life's experiences and especially from my many years of giving and receiving at the Casa de Dom Inacio – that Love is the most powerful healing force that exists.  May the readers feel their hearts touched, as I have, through Barbara's story and its healing medicine of Love.
Josie RavenWing, author of The Book of Miracles: The Healing Work of Joao de Deus,
A Season of Eagles and The Return of Spirit: A Woman's Call to Spiritual Action
Barbara puts her whole heart into her writing and offers her experiences to help her readers to stretch and grow in their spirituality. We are blessed and inspired by her friendship and her books.
Diana Rose and Bob Dinga, Tour Guides for the Casa de Dom Inacio in Brazil.