Davy Rothbart from his facebook page about his dad's major stroke. Hal Rothbart is at the Neuro ICU University of Michigan Hospital. Posted: Mon., Feb. 26, 2018.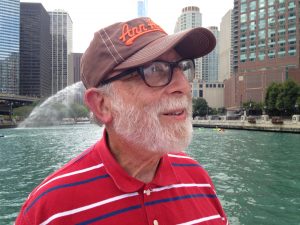 Hi friends and loved ones: As you may know, my Dad Hal Rothbart had a major stroke early Friday morning and is in the Neuro ICU at University of Michigan Hospital. I've been here with my family and some close family friends the past 3 days. While even small degrees of recovery from a stroke of this magnitude are very rare, my Dad has a uniquely vital spirit and has always been one to live life outside the box, and we are remaining hopeful and optimistic. He has shown some small but meaningful signs of progress, and while he can't really communicate, he has occasional moments of semi-awareness, where he seems to understand our presence and be able to absorb some of our words. So, here's where you all come in — whether you know my Dad or not… Two options below!
So many of you have met my Dad or know him well, and I know it means a lot to him to have so many people thinking about him. I would love for you to share a story about my Dad with me — and with him. I will read as many of these to him as I can. Could be a sentence, a paragraph, or a page — a small moment, a great memory, general good wishes, anything at all. Leave it in the comments below so that others can also appreciate your words, or feel free to email or FB message it to me privately. His condition, while severe, is stable for now, so feel free to share a quick message now or something longer in the next few days if you'd like to gather your thoughts first. Or both! CRUCIAL: Please address any reminiscences in the 2nd person, directly to my dad. Like: "I remember that time when you…" Imagine you are in the room with him and talking to him yourself. The idea is that I'll tell him who's writing to him and then read your message/story for him.
For the other portion of you who have maybe never met my Dad, I am seeking personal stories of people overcoming great odds and triumphing in some way. Maybe you, your friend, or someone you heard about who was told that something was next-to-impossible, highly unlikely, but they found a way to do it anyway. Could be a health battle, a creative pursuit, a social justice campaign, something from sports, politics, or anything at all, no matter how large or small the challenge. These stories are motivating, encouraging, and inspiring, and I plan to share some of these with my Dad as well… whatever you'd like to share here.
Thank you so much for participating, it really means a lot. And we are all so grateful for all of the loving texts, FB messages, emails, and calls these past couple days — and all of the generous local support as well, including the elite and empathetic doctors, nurses, and staff at U. of M. Hospital.
You can see much more detailed updates about my Dad's evolving condition on my brother Mike Forster Rothbart's Facebook page, so if you're interested please send him a friend request or stay tuned to his feed.
I'll post again in the coming days, I'm sure. Love to all of you, and especially to my Dad, a true O.G. and an amazing father.