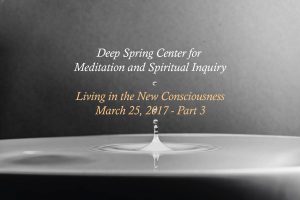 Barbara: Brief remarks
Aaron: Introduces Yeshua
Jeshua: 2:36 min.
• Dark night of the soul
• Despair of ever coming home
• One understands that you and the infinite creator have never been separate, you begin to understand that you are a spark of this radiance.
• Some about his life as Yeshua (Jesus)
• Free will; acting from love rather than acting from fear, acting for good before harm
• Each of you literally have your own light, it comes from your heart
• You are creators; you are divine
• He focuses on feeling sensation in the moment; it is claimed that it is the pure form that Buddha taught
Question 1: 39:19 min.: President Trump: Living in Mythical Consciousness
Question 2: – 43:58 min.: Vipassana as taught by Goenka seems to be different than what you teach, although similar. He focuses on feeling sensation in the moment and it is claimed it is the pure from that Buddha taught.
Question 3: – 52.51 min: Tell us more about the power of prayer. What happens when we pray for someone and who are we praying to.
Question 4: – 1:04:38 min: Is there something we can do to help someone with their transition. Can you tell me about the process of transition.
Total length of video: 1:09:45 min.
This was our first workshop using live streaming.
All videos are edited from live sessions.
Aaron and Yeshua are channeled by Barbara Brodsky.
Links are available on your receipt. If you do not download the files immediately make sure you bookmark/save the receipt link.
Download: Download to your computer or other digital devices.
YouTube: Watch it direct using this private YouTube link.
SAVE THE LINKS.