Please consider a donation(suggested donation $5-$10) to support these transcripts.
From the July Semi Annual Fundraiser for 2018
Dear Friends Hello!
It is summer in the northern hemisphere and Deep Spring Center is avidly planning our fall and winter programs. Since 2016 we have been expanding our reach to provide our message of unconditional love and compassion for all of life world wide thanks to ever expanding digital technology.
With new video and editing equipment and software programs, our super techs, Tana and Bill, have set up methods of video and live stream productions of classes, workshops, meetings and meditations to allow access by anyone in the world who has internet access. We have received warm thanks from those living in places such as China, Malaysia and Dubai-a long way from Ann Arbor, Michigan, USA. I think this is very exciting to be able to reach out world wide and share these vital concepts.
Our present projects will video new classes and discussions, plus we will also resurrect some of the older archived videos which have valuable messages people have requested. It is our plan to be able to offer several different levels of topics, so each person may progress at their own speed through these integral spiritual concepts.
People who have been a part of Deep Spring Center for many years have different learning needs than someone who has just started with Barbara Brodsky and Aaron. We want to be able to offer information to each of you at your level and let you progress onward at your own pace when you are ready.
In this manner, more experienced students are not bored with repetitive information and newer students can revisit information they want as often as needed before moving on. We have found that it can take several times hearing the same message before one truly understands it. Creating videos one can access independently will aid in learning for all students.
In order to continue to produce these programs for world wide dissemination, we need funding. It takes time to record, edit, upload, maintain and store the video programs. We have to pay for these activities. We are asking you, our friends and students, to help fund this video project so we can continue to share these programs with everyone. Reviewing the fall and winter schedule, we will need $7,000 to share these programs with you.
During this semi-annual funding drive every donor with be gifted a free digital download to the ebook, The Awakened Heart by Barbara Brodsky and Aaron. For those donors who donate $100 or more, the first 100 will receive an autographed copy of Presence, Kindness, and Freedom by Aaron. For those who donate monthly or donate $250+ per year will receive Presence, Kindness and Freedom plus automatic registration to live streaming with Evenings with Aaron and the private video link to watch anytime.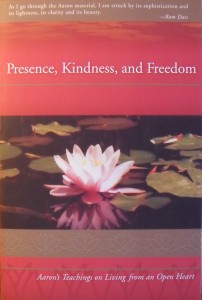 Presence Kindness and Freedom is an excellent book. I recommend it to every patient I work with. Aaron has outlined most of our human emotions and how to effectively learn to use them for growth and healing. Every one of us can use this as a guideline. I typically recommend reading the whole book, from beginning to end to get a basic understanding of the concepts. Then, go back to the beginning and spend time on each chapter, work within yourself for each emotion, learn how to address these necessary emotions and challenges in our everyday lives in a spiritually constructive manner.
You can donate by sending a check made out to Deep Spring Center, 6655 Jackson Road, Unit 565, Ann Arbor MI 48103 or online at: https://www.deepspring.org/donate-2/ We are very excited about these worthwhile video projects and hope you will assist us in developing these so you may share in the learning from wherever you are in our beautiful, but struggling world. 
Love and light,
Tavis Taylor, M.D. President, Deep Spring Center