Please consider a donation (suggested donation $5-$10) to support these transcripts.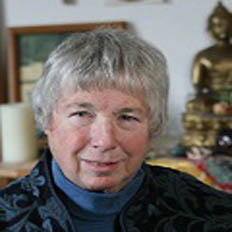 Letter from Barbara Brodsky – 2018 Oakwood Fall Retreat
Dear friends,
As you may know, our Oakwood retreat is just five months away. That may seem like a long time, but many people need that much time to clear calendars for a week, and Oakwood planning for the retreat committee and teachers begins now.
I realize that some of you may have hesitated to register, as you wondered if John and I would show up, given John's illness during Oakwood 2017 and my busy life during these past two months since Hal's stroke. John's health is much improved, as is Hal's. I want to reassure you that both John and I plan to be at Oakwood, with deepened dharma drawn from this challenging year. For both of us, this year would not have been endurable without our practices. But we both go past enduring and do continue to find real happiness. This is the fruit of practice, what Aaron calls "The Dharma Path."
Since January in Brazil, Aaron has been talking enthusiastically to me about his planned direction of teaching, the new year-long course we will begin in September live and on-line (more about that separately), and Aaron's intention to bring some of the content to Oakwood. Aaron says:
"I might call this course 'The Spiritual Path'— what it is, why we are drawn to it, in fact, came into incarnation to walk it, and how we may live it. Our two-part focus is waking up and living with love. You learn to use the challenges of daily life as the grist for the mill, to help you wake up. Everything is included—spiritual fatigue, pain, heavy emotion, feelings of shame or unworthiness, feeling out of control, helplessness, anger, confusion, fear, grief. It is all part of practice and of the human experience, all fodder for awakening. Our meditation practices are a vital core … ."
What is this spiritual path? It does ride like a roller coaster at times, with its ups and downs. I've been on this roller coaster quite a bit since Hal's stroke. It may seem to be a simplistic statement, but I am learning to relax and know that it will go up and down, and to let go of trying to hold it steady. Many practitioners reach a point where practice seems to become stagnant or feels too hard and they withdraw or give up, just at the point where new support and dedication are most important.
A retreat is one of the best ways I know to rejuvenate our commitment and practice, and Oakwood is a beautiful venue for a retreat. I am personally very excited about the new course that Aaron and I will offer starting in the fall, and about this retreat, as ways to deepen our practice and support our opening hearts. This year our Oakwood retreat gives us an extra day, too. Aaron, The Mother, John and I look forward to this added time with you and look forward to seeing you there.
With love, Barbara