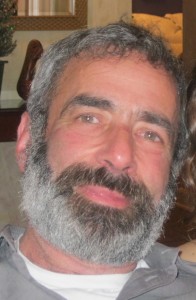 April 14, 1956 — August 6, 2018
For those in the Ann Arbor, MI area, a celebration of Frank's life.
When: Saturday, September 22, 2018
Time: Noon
Location: First Unitarian Universalist Congregation of Ann Arbor
Address: 4001 Ann Arbor-Saline Rd., Ann Arbor, MI 48103
For more information please use this link: Frank Levey
From Barbara Brodsky:
Dear friends,
Frank Levey first walked in my door in 1989, curious to attend an Aaron night. He came with a strong background in vipassana, and quickly became a regular, then joined the 3 year teacher training program. He met his wife-to-be, Larissa, in class, and I had the honor to officiate at their wedding.
Frank was a first teacher to many in our sangha, and also a beloved friend. As a teacher he was clear and spoke from his heart, offering his own dharma experiences to encourage and elucidate. As a friend, he was deeply wise and compassionate, always supportive.
He was also a fine builder and carpenter. You can see his craftsmanship in my office, which for some years was our DSC meditation hall and will serve again now as the site for the new Dharma Path program. He was a great environmental champion as well, deeply knowledgable.
Frank, you are beloved and will be missed. Go brightly into this new adventure, carrying all of our love.
Barbara