Deep Spring Center
2019 Fall Silent Meditation Retreat
Vipassana and the Awakened Heart
A silent meditation retreat with Barbara Brodsky, John Orr and Aaron*
October 6 – October 13, 2019 (Sunday to sunday)
our retreat has three inter-woven themes: vipassana meditation, practice with the non-duality of relative and ultimate experience, and living from the open heart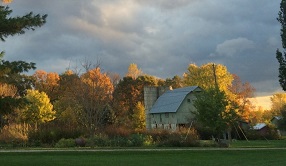 Where: Oakwood Retreat Center, Selma, Indiana
Teachers: Barbara Brodsky, John Orr, Aaron and The Mother*
Level:  All levels
Cost:
  Shared Room: $875
  Private Room: $1,260
REGISTRATION (closed)
(includes 7 nights and 21 meals – the fee covers actual retreat costs for room and meals; private rooms have limited availability).
Registration deadline:
Friday, September 27, 2019
After Friday, August 23, 2019 full payment is due at registration. 
Refunds: Your payment/deposit is refundable minus a $100 cancellation-processing fee until Friday, August 2, 2019; after that it is refundable only if someone on the waiting list takes your place.
All Deep Spring Center teachers offer their time on a dana basis, joyfully sharing the teachings. Your free-will offerings to the teachers are welcomed. (Envelopes will be available at the retreat for your offering to the teachers).
__________________________________________________
Check in opens at noon, the retreat begins mid-afternoon Sunday, October 6 and ends Sunday, October 13 after lunch.
People flying into the Indianapolis airport may arrive a day early on Saturday, the 5th, and stay overnight without charge for room. Meals are optional and cost $16.50 each.  There are no restaurants/stores nearby.
Limited number of scholarships are available; inquire if you need financial assistance.
All scholarship details are kept in confidence. Register first, choosing a shared room, choosing the pay by check, then drop an email to the registrar [email protected] and tell them the details (retreat, name and ask about a scholarship). If we can offer a scholarship, the amount due will be re-adjusted and you will be told how much is due.
You can mail in a check for that amount. If we cannot offer you financial assistance, we can probably work out a payment schedule so you can pay over time. If for some reason we cannot offer a scholarship, we can delete your registration.
Description:
In the chaos of our lives, there is a place of stillness, love and ease in each of us. How do we find that core and live from it? In this week we'll come together in silence to practice vipassana (mindfulness) and pure awareness meditation and explore living in the spaciousness of the awakened heart that is our true being. There will be meditation instruction, dharma talks from the teachers including Aaron, channeled by Barbara, silent sitting and walking meditation, and opportunity to share in the radiant love of the Divine through optional Darshan with the Mother**, channeled by Barbara.
_____________________________________________
VIPASSANA or "insight meditation" is a practical method of self-awareness which makes it possible to encounter the tensions of daily life in a calm and balanced way. Vipassana trains us to be awake, noticing the moments of life with a compassionate heart. This practice has been handed down through the centuries from its origins in Theravadan Buddhism but as we practice it here, no special beliefs are involved. We learn from our own direct experiences. Except for instruction periods, dharma talks, group meetings, and some periods of structured dialogue, the Retreat is held in Silence, giving us an opportunity to move deeply into our own experiences and heart centers. This Silence is a highly valuable opportunity. We encourage each person to give the gift of Silence to others by making every effort to observe with spaciousness their impulses which lead to a break in Silence.
We deepen in the wisdom that the emotions and body sensations with which we have become so self-identified, are really just arising out of myriad conditions and passing away. If a storm comes during a picnic, we cannot stop the rain. It comes and it will pass. Our suffering, or not suffering depends on how we relate to the storm.  Just so with our emotions and physical body sensations. Awareness notes from a spacious perspective that fear, pain, sadness, or whatever has arisen. That which is aware of fear is not afraid. That which is aware of anger is not angry.  And yet, there is pain, fear, anger, sadness.  Aaron says, "It's there, and it's not there."  We deepen in compassion for all humans who do experience such challenging expressions of our humanity. 
Compassion is supported by our darshan experiences with the Mother. She tells us she is a combination of many expression of the Divine Mother such as Mother Mary, Kwan Yin, and others, and that she expresses different aspects of herself depending on the needs of each person.
We have found that the combination of a silent Retreat with meditation and darshan with the Mother,* is a very powerful way of releasing long-held conditioned beliefs about the self and coming home to our true Buddha Nature/Christ Consciousness, our own deepest divinity. Mornings will include vipassana instruction and practice. Our afternoons will be a blend – as led by Spirit – of meditation, darshan, short teachings and guided meditations. Each evening there will be a dharma talk.
The Retreat will take place at a beautiful retreat center in Indiana that is very supportive to our practice. Oakwood provides delicious vegetarian or non-vegetarian meals, comfortable rooms, and a lovely outdoor environment for walking, through woods, meadows and by the stream. 
_______________________________
*Aaron is a discarnate entity channeled by Barbara Brodsky. Learn more about Aaron. 
**Darshan and The Mother, channeled by Barbara Brodsky is an event in consciousness—an interaction between the human and the divine, which focuses and raises the consciousness of the human. The Mother – trance-channeled through Barbara – takes each person's hands and looks into his/her eyes. She may offer a few words. Many people are deeply moved because, with unconditional love, she mirrors back to each his/her own divinity, the Divine Mother in each of our hearts. For this reason, we call the work with the Mother, "Remembering Wholeness." She doesn't "fix" us; she doesn't offer many words.  She reminds us of our own wholeness and divinity. This is very consistent with the non-dual aspects of our dharma practice, where we observe objects such as thoughts, sensations and emotions arising and passing away, impermanent and "not-self" in nature. We rest in Pure Awareness, conscious of distortions but also remembering our innate perfection. We attend skillfully to the distortions, release self-identification with them, and rest in our true being.  It is fine to come with a skeptical mind. No special beliefs are required for darshan, just a willingness to open our hearts to this powerful love.