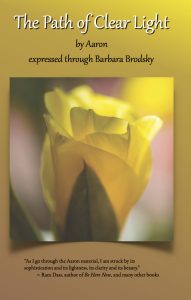 Path of Clear Light
by Aaron expressed through Barbara Brodsky
$16 + $3.95 shipping
(US shipping only. Contact Deep Spring office for Canada and international shipping)
Place Your Order | View Cart
Barbara Brodsky is a dharma teacher who leads meditation retreats and spiritual inquiry workshops worldwide. She is also the channel for the spirit, Aaron, and, with him, has offered personal spiritual direction sessions, classes, meditation retreats and group workshops since 1989.
Foreword from Barbara
Nel mezzo del cammin di nostra vita
mi ritrovai per una selva oscura,
ché la diritta via era smarrita.(1)
Midway upon the journey of our life
I found myself within a forest dark,
For the straightforward pathway had been lost.
Ah me! how hard a thing it is to say
What was this forest savage, rough, and stern,
***
I cannot well repeat how there I entered,
So full was I of slumber at the moment
In which I had abandoned the true way.
I first read these lines from Dante's Inferno at age 18, in an advanced Italian literature class on The Divine Comedy, and they were my awakening to the noble truth of suffering. Not that I was unfamiliar with suffering before that, but I had tried to deny it existed, or blamed myself for it, questioning,
"What's wrong with me?" as so many of us do. We all find ourselves in that dark woods, some early in life, some later on. Most of us arrive slumbering. Now here was a revered author speaking of the reality of suffering, its causes and a path out.
When I met Aaron I was suffering acutely from the new experience of deafness and my great aversion to it. Gently, Aaron led me on a journey, far more profound than Dante had decades earlier, because Aaron reached my heart, not just my brain.
In this book, Aaron presents the main path on which he had led me for the past 30 years. He calls it The Path of Clear Light. It is my hope that this short but profound book is as life-changing for you as Aaron's walk with me on this journey has been for me.
May this book be a blessing to all who open it's covers.
Barbara
(1)MLA. Dante Alighieri, 1265=1321. The Divine Comedy of Dante Alighieri: Inferno, Purgatory, Paradise, New York: The Union Library Association, 1935.
__________________________________________________________
As I go through the Aaron material, I am struck by its sophistication and its lightness, its clarity and its beauty.
  – Ram Dass, author of Be Here Now, and many other books
The voice of Aaron is a vessel of wisdom, arising directly from a deeply compassionate awake presence. Reading these teachings will turn you towards the radiance of love of your own awakening heartmind.
– Tara Brach, author of Radical Acceptance and True Refuge
Clear dharma; living non-duality.
– Lama Surya Das, spiritual teacher, author of Awakening the Buddha Within and other books
Interweaving teachings and experiences from several traditions, Barbara Brodsky and Aaron open us to new dimensions of understanding and dharma. It's a fascinating and illuminating read.
– Joseph Goldstein, author of Mindfulness: A Practical Guide to Awakening 
For many years I've been moved by the wisdom that flows from Aaron and Barbara. Based in solid dharma, their message is profound, timeless and filled with unconditional love. Highly recommended.
– James Baraz, dharma teacher in the Theravadin tradition and author of Awakening Joy: 10 Steps That Will Put You on the Road to Real Happiness
With the clarity and kindness of a deeply wise spiritual friend, Aaron illuminates a path for revealing the truth of ourselves as loving, luminous beings. Reading through these pages naturally moves us to rest in the spaciousness and radiance of a boundless heart, coming to know it as our deepest nature – our true home. It's rare to find this level of depth in a book so accessible.
– Aura Glaser, author of A Call to Compassion
I have heard and practiced Aaron's teachings for many years. They are filled with deep wisdom and love. This book is a clear and concise culmination of his teachings on the simultaneous experience of relative and ultimate reality and the practice of Clear Light.
– John Orr, guiding teacher of New Hope Sangha, Durham, NC