Please consider a donation (suggested donation $5-$10) to support these transcripts.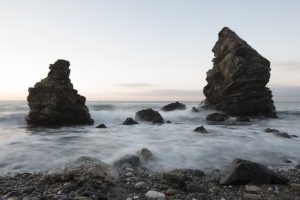 Greetings from the Pacific Northwest! As the President of the Board of Deep Spring Center (DSC), I would like to fill you in on some exciting new developments that have taken place over the last couple of years. Following a major revision in organization that was made in 2016, Deep Spring Center is now poised to offer programming to all of our members located both near and far.
But first, let me introduce myself. I am a Board Certified Internal Medicine M.D. who is semi-retired from private practice, now working part time in an underserved clinic. I also practice complementary spiritual energy healing. Twenty years ago I would have told you that anything outside of allopathic medicine was unfounded and a placebo effect. I am glad I developed a more open mind and keep learning. I have two adult children, one getting a public health degree with plans to go onto nursing; the other working as a personal trainer and a brand new father—which makes me a new grandparent! I like to hike, bike, kayak, read, go to the theatre, travel and expand my spiritual well-being. The latter is why I am a part of Deep Spring Center.
I first came to know Barbara and Aaron personally in 2011. Having read her book Cosmic Healing, I then went to the DSC website and found a listing for a retreat that was to take place in Seattle. Imagine that: the center was in Ann Arbor, Michigan, yet there was to be a retreat in my area of the country! And it was to take place the following month: how convenient. I had no idea what to expect, given that the retreat was in someone's home and not at a big retreat center. Yet there, in this nice cozy house with wonderful hosts, were Barbara and Aaron, the authors of the book I had just read. Wow! Over the years I have come to know Barbara and Aaron and some of the other members of DSC, despite my being located in the far northwest corner of the U.S.
In 2016 with the advent of an exploding digital world of technology, the Deep Spring Center Board took a new approach and decided to expand using computer media software that allows meetings to occur "face to face" in real time while members are anywhere in the world. I was invited to join the Board and jumped at the opportunity to help DSC expand. This connection via computer is integral to our success. While traveling, I have been known to seek out a pub with good wi-fi in order to participate in one of our meetings, such as in northern Scotland: good thing I had a headset to hear over the pub rowdies!
I am a relatively new president, having served as a board member from summer 2016 until November 2017, when I was drafted to this new position. I have found the DSC board to be a wonderful group of loving, compassionate people who feel strongly about sharing our mission with all those who are interested. We and the volunteers are developing new ways to reach out to as many people as possible. Tana and Bill have become IT whizzes with social media apps and video technology to bring live streaming workshops and other segments to you worldwide. Mary and Celeste are very organized and warmly create multi-day workshops and retreats for people to personally attend; Celeste has also organized an online meditation group. Bob, Isabelle and Tana are keeping us on track with finances and record-keeping. Roann is helping keep us up to date on the business end of things, and on making sure that what we send you is accurate and easy to read. And, of course, Barbara and Aaron are our loving and dedicated founding teachers and guides, without whom none of this would be happening. Tana is the backbone of Deep Spring Center. It is only because of her dedication, expertise and enthusiasm as our manager that we have been able to accomplish so much.
We rely on volunteers to help with the many projects being developed. Thank you to those of you who have stepped up to help move us forward. We are grateful for your specialized skills and your guidance. You are part of our developing international family.
With this new international digital approach, Deep Spring Center membership has grown significantly, which means that we no longer know who everyone is: we're all over the world. As part of our effort in developing a sangha, a group of people with similar interests, we invite you to introduce yourself to us. Shortly, we will be putting a page up on the website for you to leave a short paragraph about yourself; we look forward to getting to know you a bit.
Thank you for sharing your love and interest in spiritual growth with us. As each one of us grows and lightens our own vibration, it lightens the vibration of the whole.
Light and Love to each of you,
Tavis Taylor, President
Deep Spring Center