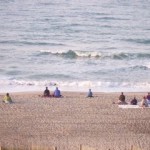 Deep Spring Center for Meditation and Spiritual Inquiry regularly offers three hour Saturday Introductory Meditation classes.  You may wonder what happens in such a class.

As the group gathers, we find out who we are and what experience folks might already have regarding meditation. No experience with meditating is perfectly fine.  There are so many ways to meditate and all are useful.  Here at Deep Spring we teach and practice a Buddhist method known as Vipassana Meditation which translates as "clear seeing" or many call it Insight Meditation.  It is a method  taken from Buddhist teachings but there is no requirement to become a Buddhist or indeed to  shed a spiritual tradition one might already have.

The practice is to sit comfortably and relax.  Then using the breath as a primary object to assist  focus, the meditator simply pays attention to the passing phenomena of thought, bodily sensations, sounds etc. with an attitude of kindness and acceptance.  This relaxed practice of presence in the present moment carries into our daily life bringing more ease to our days.  In the three hour introductory class, we will practice several short sittings of five minutes or so.  There will be plenty of time for feedback and questions.
by DAC, Deep Spring Teacher