The Healing Power of Deep Listening and Presence
Workshop held at Interfaith Center for Spiritual Growth and Online
When: Saturday, September 23, 2017
Time: 10 am – 6 pm
Where: 704 Airport Drive, Ann Arbor, MI
Bring your own lunch.
Tea, coffee and some snacks will be served.
 Local – $50 – REGISTRATION
Online – sliding scale – $30-$100 – REGISTRATION
(Thurs., 9.21 | Registration is closed for this workshop)
(You must register to attend. Dana paid to teachers does not register you for the workshop.)
All attendees will receive the video of this workshop as a Thank You from Deep Spring Center.
Bring your own lunch. Tea, coffee and some snacks will be served.
No one will be denied participation for financial reasons. Please contact the office at 734.477.5848 or info@deepspring.org.
______________________________
Deep Spring Center teachers offer their time on a dana basis, joyfully sharing the teachings. Your free-will offerings to the teachers are welcomed.
Note: Teachers do not receive any compensation from Deep Spring Center. Deep Spring Center fees / donations are used for running expenses in support of retreats, classes, workshops and to protect the archives of Barbara Brodsky and Aaron for future use. Dana to the teacher is NOT a registration for this session.
Click here to offer dana to Barbara Brodsky.
_______________________________
Barbara Brodsky – Barbara Brodsky has been practicing meditation since 1960. She has dual roots in the Buddhist and Quaker traditions and her teaching reflects this balance. Barbara teaches insight or vipassana meditation and practices derived from the dzogchen (non-dual awareness) traditions to people of all faiths, traveling throughout the world. She is an ordained Interfaith Minister. In Ann Arbor, Michigan, in 1989, Barbara founded Deep Spring Center.
More about Barbara Brodsky.
Dale Jensen – A Guild Certified Feldenkrais Practitioner and owner of MICHIGAN Feldenkrais in Ann Arbor, Michigan. He has a long-standing interest in teaching, movement, well-being and healing.
He was drawn to the Feldenkrais Method as a result of a knee injury while training for the Portland, Oregon marathon. While conventional medicine, physical therapy, and acupuncture were important components of Dale's healing, it was the Feldenkrais Method that taught Dale new patterns of walking and running to prevent repeating the same injury.
Dale also found relief from repetitive strain while working in IT in Seattle. The combined stresses of computing, bicycle commuting, and holding a young child contributed to chronic pain in Dale's arms and hands. Feldenkrais lessons taught Dale to use his arms with greater lightness and ease by connecting his arms to his core.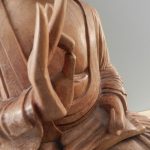 A co-creation of human and spirit led by:
Barbara Brodsky – Founder and Guiding Teacher of Deep Spring Center.
Dale Jensen – a Guild Certified Feldenkrais Practitioner and owner of MICHIGAN Feldenkais in Ann Arbor, MI. He has a long-standing interest in teaching, movement, well-being, and healing.
Aaron – channeled by Barbara Brodsky.
Description:
Who heals? What heals? 
We acknowledge the relative plane level of distortions of body and emotions. We can also know the Ultimate level, that within ourselves that is free of distortion.
The day will be a mixture of background information from Aaron on the simultaneity of relative and ultimate, and of distortion and the ever perfect; guided meditations from Aaron and Barbara; guidance from Dale through several sessions of the Awareness Through Movement process of the Feldenkrais Method; questions & answers and dialogue with Dale, Barbara, Aaron, Father John and perhaps other Entities. Those participating from a distance will be able to follow along with any actual meditations and exercises.
____________________________
Testimonials from the workshop on April 25:
The workshop was powerful and inspiring. I'm so grateful to have access to this deep learning through Barbara and the Deep Spring Community!
– Grace K.
Since the workshop, I found that my heart is more open towards my fellow human beings and I am more patient, understanding and loving. I am most grateful for the purification and look forward to connecting again soon.
– Mimi M.
The teachings, practice opportunities and darshan I get through Deep Spring Center assist my path in exponential ways. I can't believe I have access to the clarity, wisdom and lovingkindness which come from DSC. Thank you to all those who make the work of DSC possible.
– Celeste Z.